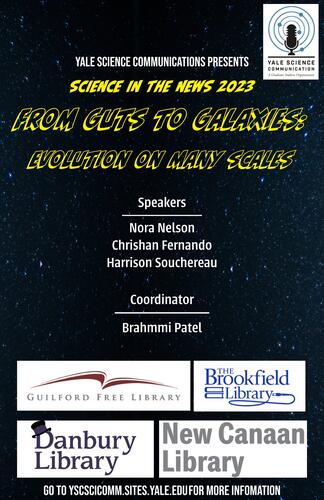 Talk Preview:
While our February speakers discussed three remarkable species on Earth, our March talk will cover the science behind changes over time and space. Come to hear the journeys of tiny bacteria, human ancestors, and gigantic galaxies.
Join us to learn about how these changes happen and why they are important. See the description below, or view our calendar for more details.
Talk Description:
Ever wonder how everything around us has evolved – no matter the size? How have scientists tracked evolution and what tools can inform us about the future? Join us in this month's Science in the News talk where Yale scientists Nora Nelson, Chrishan Fernando, and Harrison Souchereau talk about evolution across space and time. Join us to learn about how gut bacteria evolve over lifetimes, the tools scientists use to trace the last universal common ancestor, and how galaxies can come to an end.
Speaker Preview: